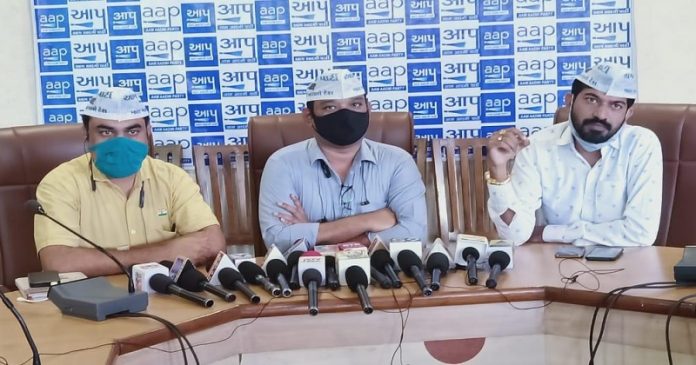 Aam Aadmi Party's people-oriented campaign is reaching the hearts of the people through Kejriwal's oximeter campaign. Thus Aam Aadmi Party will reach out to the masses through basic questions and issues of rural and farmers.
At a press conference held at circuit House in Surat today, Gujarat spokesperson Yogesh Jadwani answered "What is the purpose of launching Chalo Gaon Ki Aur Abhiyan?", Jadwani said, You all know that in the last 20 years of rule in Gujarat, no one has been saved, be it farmers, laborers, labourers, traders, widows or women. In the last election, Mukhel's faith in the Congress did not come true at all. People from all walks of life have been tired for 20 years. Though there was some hopes of people but that also died when people saw congress MLA walking into BJP.
At the press conference, Manoj Sorathia, Union Minister for State, further said that the glory of Aam Aadmi Party's work in Delhi is being sung all over Gujarat. Thus people's faith in the Aadmi Party is growing. Hundreds of leaders and activists from the BJP and the Congress are joining Aam Aadmi Party every day.
Under this, Aam Aadmi Party is launching "Chalo Gaonki Aur" campaign from 18th.
As part of the preparations, Gopalraiji, in-charge of Gujarat and a cabinet minister in the Delhi government, gave the golden slogan of contact, dialogue and coordination in the Aam Aadmi Party's "Chalo Gaon Ki Aur" campaign. The zoom meeting was attended by state core team members, union ministers, district and taluka in-charges, presidents.
From September 18, a team of Aam Aadmi Party in-charges and activists will visit all the villages in all the talukas and inform the people about the working procedures of the Aam Aadmi Party and make good and capable people from the same area a strong contender in the local elections.
In this way, many people will join Aam Aadmi Party and lay the foundation of Gujarat politics by changing the village development of Aam Aadmi Party, said Sorathiya.