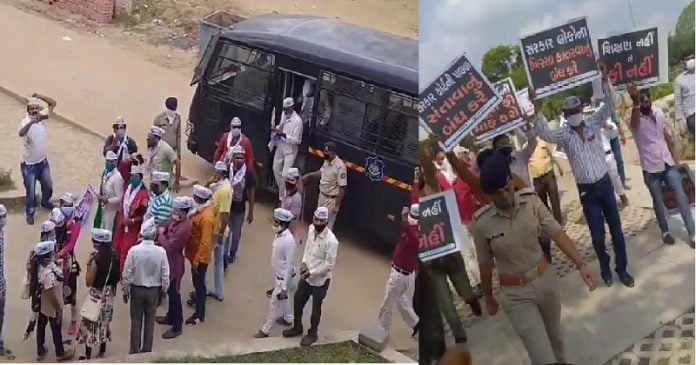 Gujarat Aam Aadmi Party, On 23-9-2020, in four Municipal Corporations (Ahmedabad, Vadodara, Rajkot and Surat) a demonstration was held with playcards regarding school-college fees waive. The public believe that the Aadmi Party could be a voice of Gujaratis.
Demand of the Aam Aadmi Party is clear.
(1) Government Corona – Education relief package announced to provide relief to parents, administrators and teachers.
(2) Full fee waiver of students for one year.
(2) The government gives a grant to the administrators for the maintenance expenses of the school-college.
State Spokes person Yogesh Jadvani said, With these three demands, the Aam Aadmi Party will become the voice of the people. Parents and students have not received any response from the government in this regard and the government is testing the endurance of the students and parents by waiting instead of taking a firm decision. The assembly session is currently underway. Therefore, Today on 29-9-2020, a program was organized by Aam Aadmi Party in front of the assembly premises (in Gandhinagar) for one day from 10:00 am with these three demands.
"It is a humble attempt to get the voice of students and parents to the ears of the deaf and dumb government" said Kishorebhai Desai, President, Aam Aadmi Party, Gujarat.
About one hundred and fifty activists led by the state president Prof. Kishorebhai Desai joined the fast. Large number of AAP workers from Gujarat especially from Ahmedabad and Gandhinagar As many as 150 activists gathered in support of the protesters. Dharna was planned with masks and maintaining social distance.
In talk with Trishul News, Dr Irsan Trivedi, Media co-ordinator of AAP said, Several attempts were made by the administration to suppress the movement by abusing the police. But thus the passion of the Aam Aadmi Party workers remained intact. One by one, about 25 people came in a team and the police put them in a box.
"More than 10 police compartments and a police patrol of more than 20 vehicles were set up so that the event could not take place. But about 150 activists formed a team of 30-30 and joined the agitation and were arrested and taken to the police station at Sector 27", Dr Irsan added more.